Firstly, we will not be recommending any tailors because we will have a biased opinion as we are tailors ourselves. This will just be a guideline on how to correctly choose a tailor in Bangkok just because there are so many. Like any other organisation, you should also be aware of reviews as some may be legit and others may not be.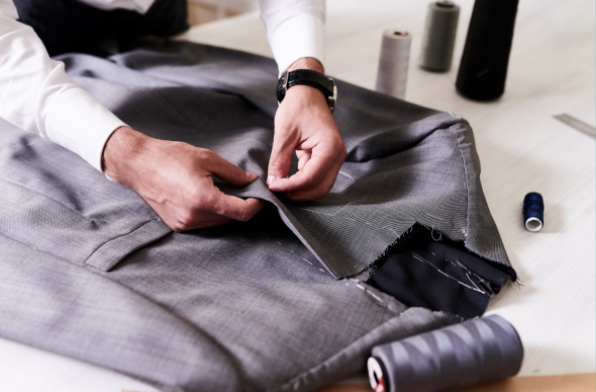 There are several aspects to choosing a tailor in Bangkok but we are here to discuss four of which we feel are most important if we were to choose a tailor ourselves.
Trust – Trust is something that is built or created between individuals. You can instantly trust a tailor if you were referred by a close friend or family. We believe that everyone has the ability to be able to decide if the other person is trustworthy after a conversation or two. Therefore, our best recommendation is to have a simple conversation with your tailor. Speak to them and try to understand who they are and how sincere they are.
Knowledgeable – Wearing customized clothing is one thing, but to wear it right is a whole different level. The general public will know the type of fit they are looking for, but there is so much more to do when customizing your clothing. Again, communicate with your tailor and ask for their expert opinion. A tailor who understands his field will be able to guide you extensively on every aspect of a suit or shirt. You should instantly feel comfortable after speaking with your tailor and if you don't, perhaps you might need another tailor.
Service & Attitude – There is nothing worse than going into a store and having a salesperson ignore or treat you improperly. Should you ever encounter a tailor in Bangkok that shows you attitude, walk away immediately. There are several others that will treat you with respect and offer you their full service with a smile on their face. Find a tailor that has the right attitude and enjoy the full experience of getting customized clothing.
Gut Instinct – If you have time in Bangkok, going with your gut instinct would be our best recommendation. There are a few roads with several tailor shops nearby. Sukhumvit Road is one of the most popular. Pick a few stores and just walk in and speak with the tailor there. By speaking with them, your gut will tell you itself that this tailor is genuine and will offer you their service and honesty full heartedly.
We at Lucky and Oscar Tailor are here to give you our best. Our aim is to build trust, offer guidance through our expertise and serve you with a positive attitude.
Get Lucky!;)
www.luckyandoscar.com
Ken